VISION
We are a reference and recognized centre for the teaching of Spanish as a foreign language.
WHY CHOOSE SANTA BARBARA?
Santa Barbara Spanish School has been run by specialists in the field of education for 31 years.
SANTA BARBARA is an independent and unique school, expert and innovative in the teaching of Spanish, run by specialists in the field of education. It is a project made possible by a great team. Our aim is to promote the learning of Spanish with a methodology centred on the student as an autonomous learner, oriented towards understanding and understanding between people from different countries and cultures.
SPANISH SCHOOL SANTA BARBARA listens to you, advises you, advises you and offers you a personalized and flexible solution for your needs. The type of course, accommodation, activities will be oriented to your objectives.
Innovation: requires continuous learning.
Leadership: we face the challenges and give them solutions.
Cooperativism: cooperation and team participation and transparent management.
Professional ethics: we work with respect, professionalism and integrity.
Tolerancia: ante la diversidad de opiniones, creencias y culturas.
Sensibility:immediate customer service.
Confianza: seguridad que ofrece el centro. The students are surrounded by the best professionals.
Empathy: solving students' personal problems. Customized evaluations and follow-ups would be performed.
Tangibles: Classrooms perfectly equipped with new technologies and suitable to favour the learning of the students.
Learning at SANTA BARBARA SPANISH SCHOOL>/strong> means living a stimulating, enriching and highly effective learning experience. SANTA BÁRBARA is recognized for her high quality of teaching, based on a communicative and humanistic approach. The main objective is to provide the student with the necessary strategies and knowledge to develop in a Hispanic environment in which different cultures converge. In order to achieve this goal, the teacher combines theory and practice, addressing all the pragmatic, linguistic and functional aspects of the spoken language , together with socio-cultural information, essential key to obtaining communicative competence. Grammar, vocabulary, reading comprehension, listening comprehension, oral expression and interaction, and written expression and interaction are always integrated in order to bring the student closer to an authentic communicative environment.
We have a teaching plan to ensure adequate progress in student learning.

We have a team of qualified teachers.

We follow a methodology adapted to the needs of the students.

We carry out evaluations of programs and courses.

We promote the participation of your students in the exams to obtain the Diplomas of Spanish as a Foreign Language (DELE) in the centre itself or in the surrounding examination centres.
It guides its students on their progress in learning Spanish.

It has equipped classrooms and adequate teaching resources.

It has agile procedures to obtain the opinion of its users.

Handles complaints and claims from students.

Provides complete and detailed information about the courses and services offered.

truthful advertising of your offer.
The school is 5 minutes walk from the Plaza Mayor and the Cathedral of La Almudena. The school is also 10 minutes from the Plaza de Oriente, which houses the Palacio Real and the Teatro Real and it is 20 minutes from the Prado Museum, the Thyssen Bornemisza Museum and the Museo Nacional Centro de Arte Reina Sofía.
The team of teachers at SANTA BARBARA are highly qualified, motivated and work with enthusiasm and professionalism in the teaching of Spanish. All our teachers are specialists in teaching Spanish as a foreign language. All our teachers are specialists in the teaching of Spanish as a foreign language and many of them have postgraduate, master's and/or doctoral degrees in their speciality. In addition to their extensive experience, our teaching team is dynamic, open, outgoing, friendly and highly motivated, which makes the teaching/learning process especially fun and attractive to students.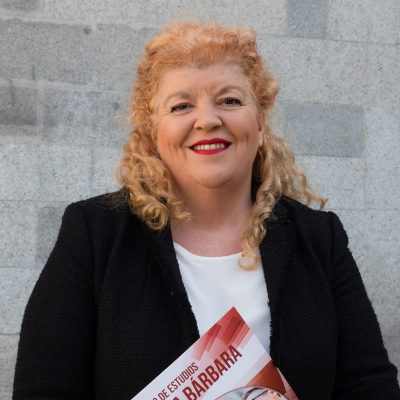 María Sabas Elías
María Sabas holds a degree in Hispanic Philology from the University of Deusto (Bilbao) and a Master's degree in teaching skills from the same university. He has also studied Journalism at the University of the Basque Country (Bilbao).
She has been teaching Spanish as a foreign language since 1986.
She has been Academic Coordinator at Ideal Education Group for the Enforex and Enfocamp brands.
María has been responsible for the DELE exam and the CCSE test for the Instituto Cervantes.
She has also been a tutor of the internship of the Masters of Spanish as a foreign language for the University of Alcalá de Henares and for the University Antonio de Nebrija.
She has been a linguistic proofreader for the Susaeta publishing house.
She teaches the Master's Degree in Spanish as a Foreign Language at the Comillas Foundation (University of Cantabria).
He has specialized in pronunciation in the teaching of Spanish, a subject on which he has given various courses and workshops and on which he has written several manuals.
She is co-author of the collection Nuevo Prisma at levels A2, B1 and B2, in the section of pronunciation and spelling, of the publishing house Edinumen, specialized in the teaching of Spanish as a foreign language.